Welcome to
HealthyTOKYO Cafe & Shop
It all started with a simple idea: "Let's provide great vegan food and drinks for everyone. 100% vegan for 100% of the people." To every single one of you, we want to provide the healthiness needed in your life. High-quality ingredients, refined, innovative flavors, and eye-pleasing gourmet delicacies – We don't compromise. Our chefs and pâtissiers strive to use fresh, organic and natural ingredients to create never-ending culinary delights. We are determined to bring only the best to our valued customers.
HealthyTOKYO is also Japan's CBD pioneer and we decided it was time to offer the first CBD-infused drinks and sweets in Japan. Vegan innovation and CBD food and drinks. What could be better? That is why we decided to open the HealthyTOKYO Cafe & Shop in 2018.
We are proud to be the first fully vegan cafe in Haneda Airport, the fifth most traveled airport in the world. We are actually the first fully vegan cafe in any Japanese airport. Our cafe has been born from our love for what we do, and we hope to be able to share this passion with you.
HealthyTOKYO Cafe & Shop is not only for those of you who are flying through Haneda airport, but for everyone who would like to explore the exciting world of vegan food. We are just twenty minutes away from Shinagawa station and a nice destination for a healthy breakfast, lunch or dinner. Located in Terminal 2 on the third floor and outside of security makes it an easy visit for travelers and non-travelers alike.
We strongly believe in providing dishes that are visually appealing, significant in size and absolutely delicious. Our gorgeous food just happens to be vegan, which makes it appealing to everyone. Making the best out of the international soul of our café, we combine different food cultures to bring tastes and flavors from around the world. Open 365 days a year from 6:30 am to 8:00 pm means that you can get a healthy, delicious vegan breakfast, lunch, dinner or snack all year round.
Savor our famous gluten-free lasagna to add an Italian vibe to your lunch; a signature matcha latte for those who want to experience pure Japanese flavors, or a gâteau au chocolat as a fancy French dessert. These are all famous dishes and yet, HealthyTOKYO endeavors to make you taste something brand new. In fact, we use only vegan ingredients, which are as much as possible organic, local and natural.
Our team spends countless hours working to ensure that these dishes are revolutionary. Have you ever had a salad with pure maple syrup dressing? What about soy mozzarella cheese in a caprese sandwich with fresh tomatoes, basil and handmade tofu mayonnaise? And let's not forget about the hand-crafted muffins: sweet potato, chocolate banana and apple just to name a few. We can't wait for you try all of our recipes and our ever-innovating menu.
Our coffee is a special organic andfair-trade blend roasted exclusively for HealthyTOKYO by one of Japan's most famous small batch roasters. Created specifically to taste wonderful in its purist form or with our proprietary HealthyTOKYO Hakka Mint CBD oil infusion. Coffee aficionados and CBD lovers welcome anytime.
The First Airport Cafe in the World to Offer CBD & CBD Infused Drinks and Sweets
HealthyTOKYO is the first cafe in Japan to offer CBD infused drinks and CBD infused sweets. We are also the first airport shop in the world to sell CBD.
Peruse our extensive menu of unique and delicious CBD delicacies.
No cafe is complete without an amazing array of beverages. Innovative and organic matcha, coffee, cocoa drinks and specialty teas await. All available with or without our unique HealthyTOKYO CBD oils. We also offer Hand-crafted soft drinks, specialty cocktails and craft beer.
Our CBD infused sweets include chocolates, cookies, energy bars, brownies, cakes and more. All handcrafted in our factory kitchen in the historic Edogawa section of Tokyo. All of our delicacies are made fresh.

From breakfast to dinner, feel free to stop by. You can choose from a variety of scrumptious baked goods, sandwiches and cafe drinks to start your day with a smile. Searching for a more substantial meal or savory foods? You can pick from salads, sandwiches, soups, paninis, quiche and of course our famous lasagna. Ah, the mile high lasagna that our customers rave about.
You no longer have to aimlessly wander to find the perfect aperitif. HealthyTOKYO's Café is ready to welcome you with a selection of beers, and highballs to light up your night. Bland vegan dishes are now a thing of the past.HealthyTOKYO first of all delights its customers, with food that happens to be vegan. That's what we are about – delicious food, for 100% of the people. We are happy to offer you a natural, healthy experience that is free of worries.

CBD Oils, Gummies and Beauty Products

The perfect gift to bring back home
HealthyTOKYO is a pioneer in the CBD oil market in Japan since 2016. We have created several brands of CBD to meet your specific needs. All made in Japan. Everything from the highest quality all-natural and vegan CBD oils to CBD gummies and CBD beauty products are available in our Haneda Airport shop and all of our shops in Japan.
Our flagship HealthyTOKYO CBD Yuzu Citrus oil is made in Japan with broad spectrum organic , CBD, MCT and natural essential oils. Available only from HealthyTOKYO. You will also find our diverse and full selection of other CBD oils, gummies, vape products, topicals, capsules, beauty products and CBD edibles.
To the CBD Shop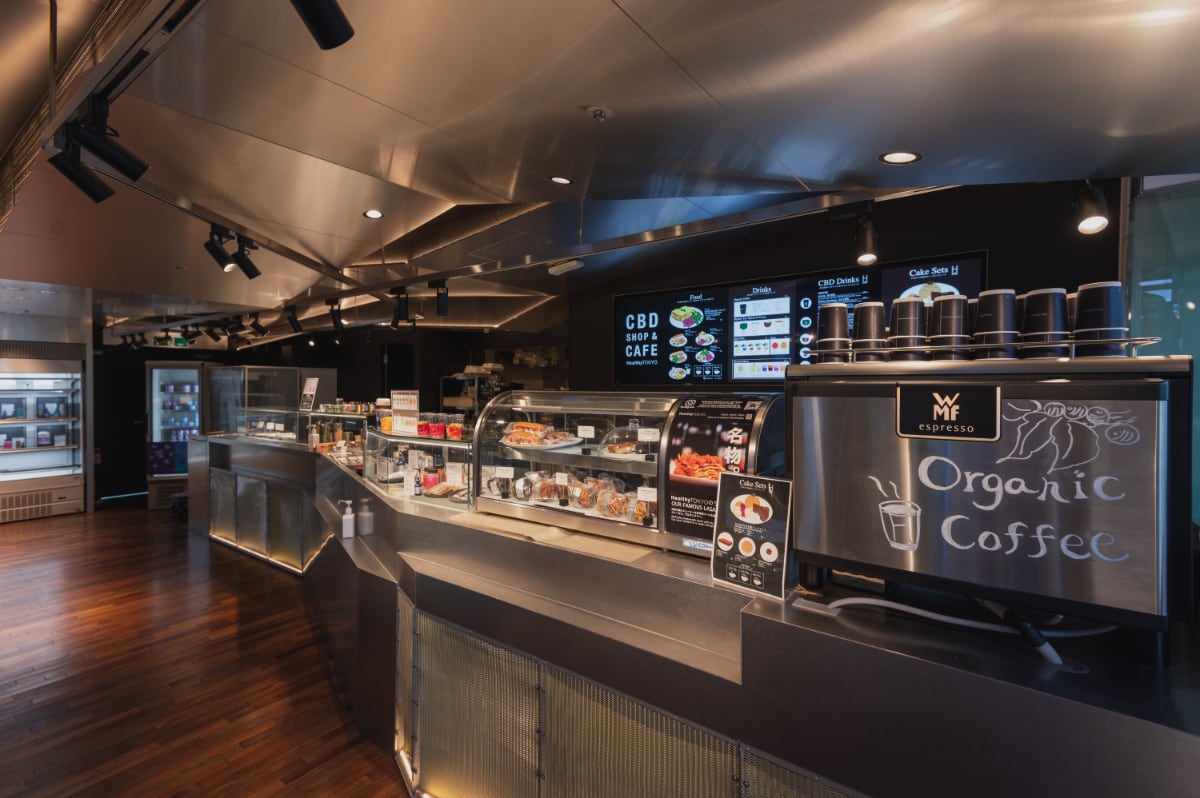 Yes, we have a lot to offer at the HealthyTOKYO Cafe & Shop in Haneda Airport. Thoughtfully and lovingly prepared delicacies, handcrafted drinks, CBD oil and infused sweets and specialty gifts all served by our warm and caring staff. 100% vegan for 100% of the people. We are looking forward to welcoming you.
Current opening hours: 6:30 am to 8:00 pm.
Haneda Airport Terminal 2 (3F outside security)

Phone: 050-5305-1331
3-4-2 Haneda Airport

Terminal 2, third floor

Ota-ku, Tokyo 144-0041
3-4-2 Haneda Airport
Terminal 2, third floor
Ota-ku, Tokyo 144-0041
050-5305-1331