HealthyTOKYO CBD Shop & Cafe in Daikanyama
This is the first CBD shop and cafe in Daikanyama and HealthyTOKYO's third shop in Tokyo.
Conveniently located just five minutes on foot from Daikanyama Station, ten minutes from Ebisu Station, and eleven minutes from Shibuya Station. The HealthyTOKYO CBD Shop & Cafe in Daikanyama rests on a quiet side street right off of Hachimandori, the main avenue in town.
The shop is fashionable and sophisticated, perfectly aligned with the atmosphere of up-scale Daikanyama. The interior is inviting and elegantly appointed, conjuring up images of a jewelry store or chocolate boutique. Indoor counter and outdoor seating available.
Customers can immerse themselves in the relaxing, graceful atmosphere, shop the largest selection of premium CBD products in Japan and enjoy HealthyTOKYO's high quality Vegan CBD sweets and drinks.
The Finest Vegan Gluten-Free CBD Sweets
At the HealthyTOKYO CBD Shop & Cafe in Daikanyama, you can enjoy our array of gluten-free and vegan CBD-infused chocolates, brownies, cookies, cakes and other delicacies. In the mood for a light meal? Don't miss the vegan gluten-free lasagna made famous in the HealthyTOKYO Haneda Airport Shop & Cafe. Scrumptious vegan quiche is also on the menu. All of our delicacies are vegan and hand-made by our caring and professional chefs.
Extensive Menu of Hand-Crafted CBD Drinks
Our extensive CBD drink menu also awaits. Choose from hand-crafted CBD infused organic coffees, organic matcha and lattes, organic cocoa, organic teas and artisan fruit sodas of your choice.
HealthyTOKYO's coffee is a unique blend, specially roasted only for us, to pair perfectly with our CBD. It is organic, fair trade , rich and highly aromatic with just the right balance. Our matcha drinks are crafted with the highest grade organic matcha available in Japan.
All food and drinks are available for eat-in or takeout.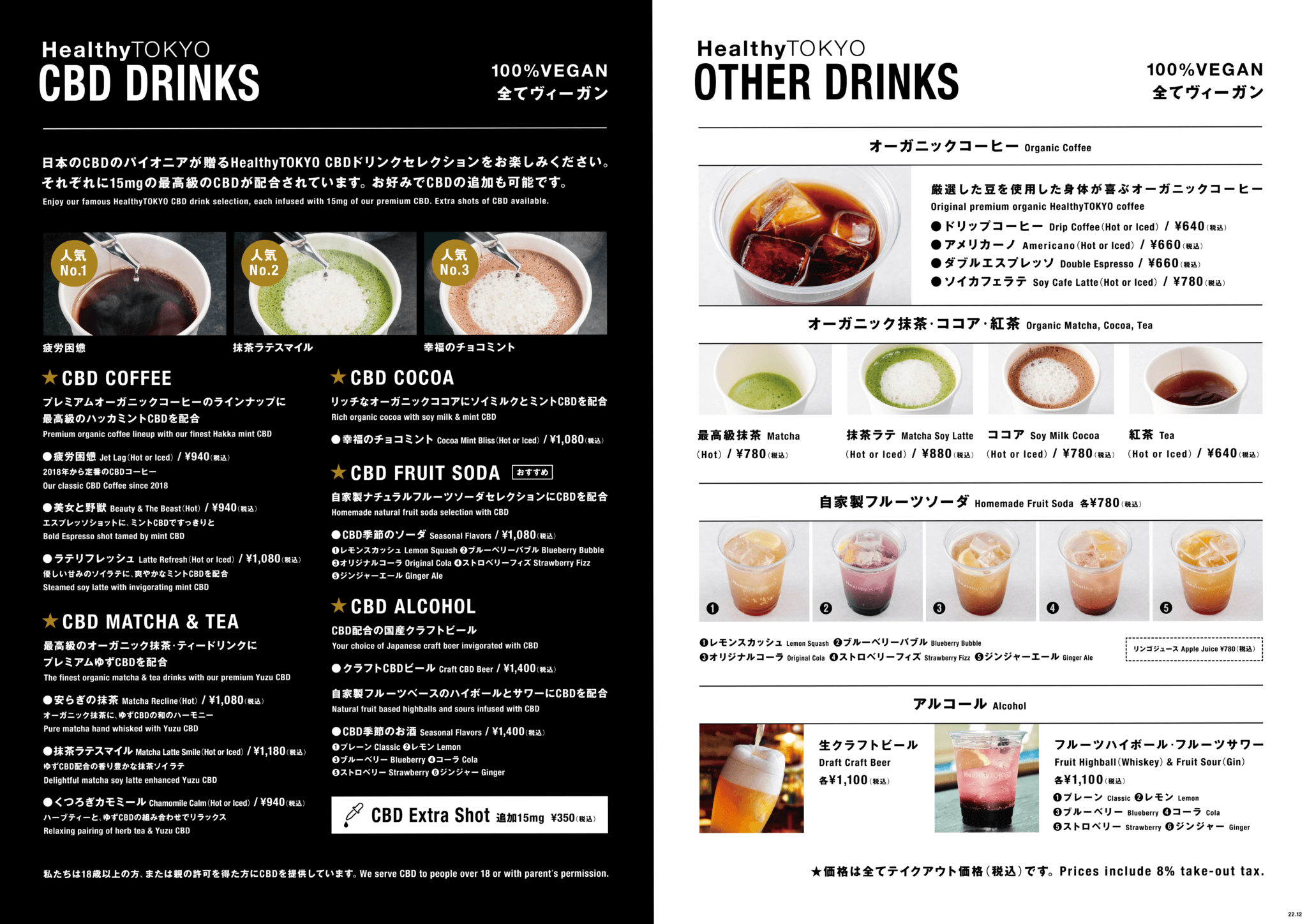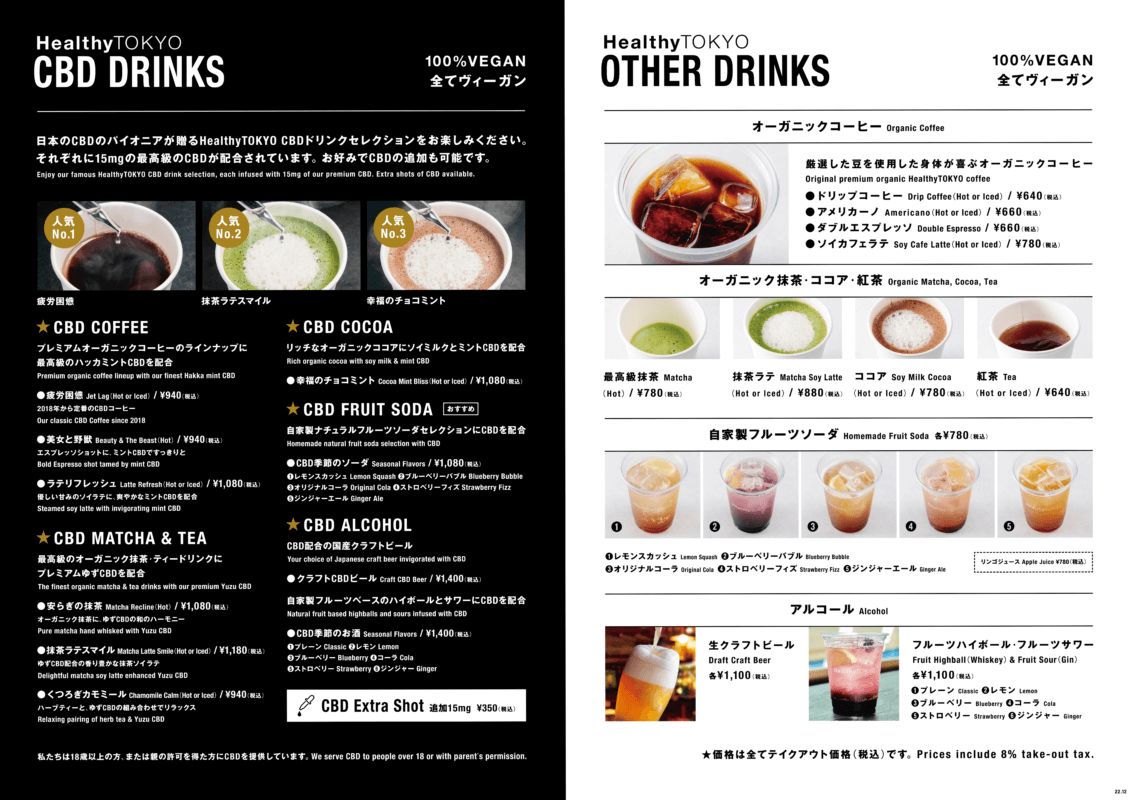 Largest Selection of Premium CBD Products
The HealthyTOKYO CBD Shop & Cafe in Daikanyama presents the full lineup of our original CBD products. Both our HealthyTOKYO brand and CBDTokyo brand are on full display. We also have a careful selection of guest products that compliment our offerings.
You will find a wide range of items, including the most premium broad spectrum CBD oils, the highest quality CBD isolate oils, creams, balms, facial masks, compress patches, gummies, capsules and more. In addition, we offer premium limited-edition products sold only at the Daikanyama store. Some popular products are also available for tasting.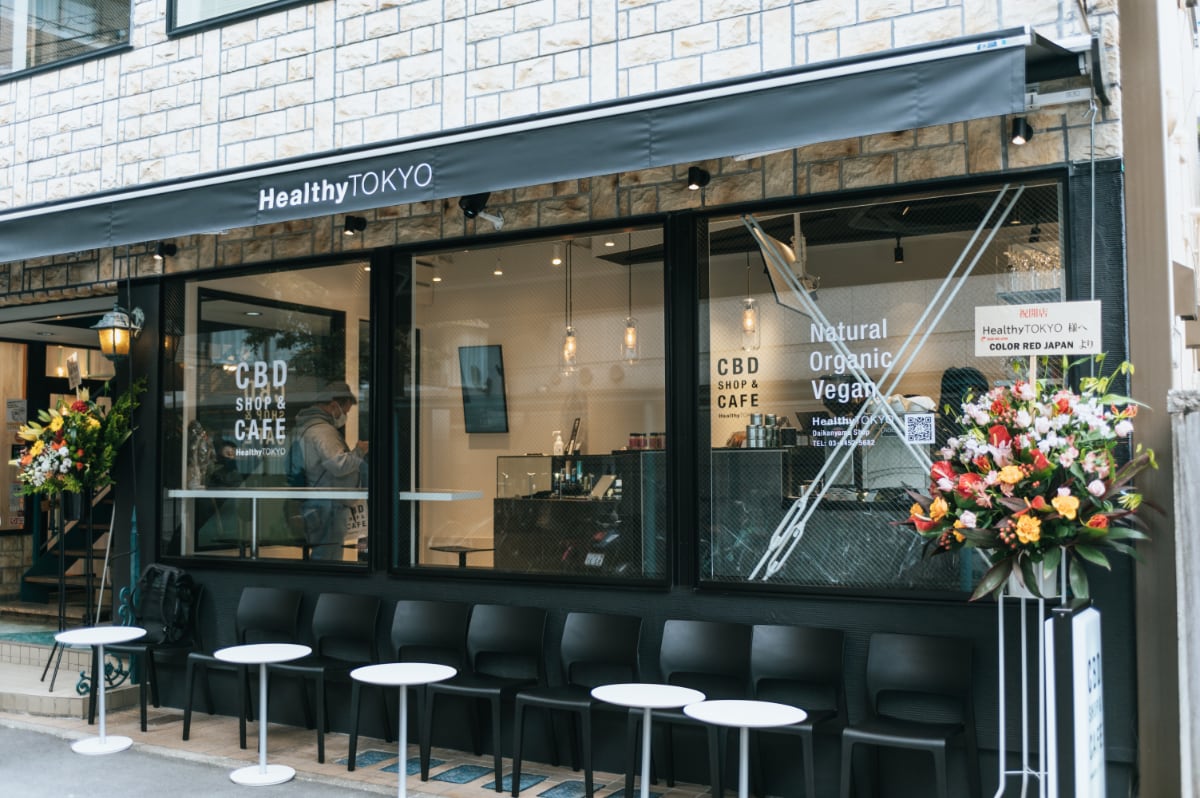 Consult with Our Knowledgeable Team
The majority of our Team are multi-lingual, trained, experienced and ready to assist with any questions you may have about finding the right CBD products for you, a loved one or a friend.
Pet Friendly Terrace Awaits
Our terrace seats are a perfect place for you and your furry friend. We also have special CBD Dog treats in all of our locations.
We Are Here for You
HealthyTOKYO CBD Shop & Cafe in Daikanyama- An elegant urban oasis. The perfect place to rest from the hustle and bustle of the city. A luxurious spot to refresh yourself and your mind. A place to learn more about CBD and find the finest CBD products available. Visit us between work, on holidays or anytime you want to sit back and relax.
We look forward to warmly welcoming you.