For many people with Gluten Intolerance or Celiac Disease, traveling presents unique obstacles and challenges, but with a little planning and vigilance, you can fly gluten free!
In a lot of cases, food anxiety initially occurs at the airport because you have left behind the safety of your own kitchen. You have also left behind local markets and restaurants that you trust. There are many airlines that fly to Tokyo. From where I live in the United States, there are currently two with direct flights to Narita – Delta and ANA. I fly both frequently.
Like most people, I have never really enjoyed airline meals. Long before my 100% gluten free diet, I routinely stopped on the way to the gate to pick up a foot-long Subway sandwich on whole wheat, and several chocolate chip cookies. Often, another passenger would comment that they wish they had done the same. More than once, a flight attendant would whisper to me that none of their co-workers ever ate the airline food and it was a good choice to bring my own. I even texted a good friend who is a commercial airline pilot and asked him whether he ate the food on board. He texted back, "I try to avoid the airline food whenever possible." So, once I went gluten free, I just continued my practice of packing my own meals. Recently, I discovered another option in the form of airline gluten free meal service.
According to ANA's website, the demand for allergen free meals has more than tripled since 2015. This prompted them to collaborate with Cosmo Vital to provide an original gluten free rice bread. Delta also offers Special Meal Requests (SPML). On a recent flight I noticed they serve Udi's bread as part of their gluten free meals. The Delta non-stop to Tokyo offers three types of vegetarian meals, three religious meals, two baby/toddler meals, a Japanese regional meal, and five dietary meals of which one is gluten free.With all these new offerings, I decided to try it out on my most recent flight to Japan, if only for the novelty of not having to pack a meal.
Special Meal Requests on both airlines come with a few guidelines. To begin with, each special meal must be ordered at least 24 hours in advance but is not guaranteed to be on board if there is some unforeseen delay or cancellation. Also, it is recommended that you confirm with both a gate agent and a flight attendant that your meal has made it to the airplane. I chose not to do so, but on both ANA and Delta, the gluten free meals were delivered to my assigned seat which they had tagged with a fluorescent GF sticker.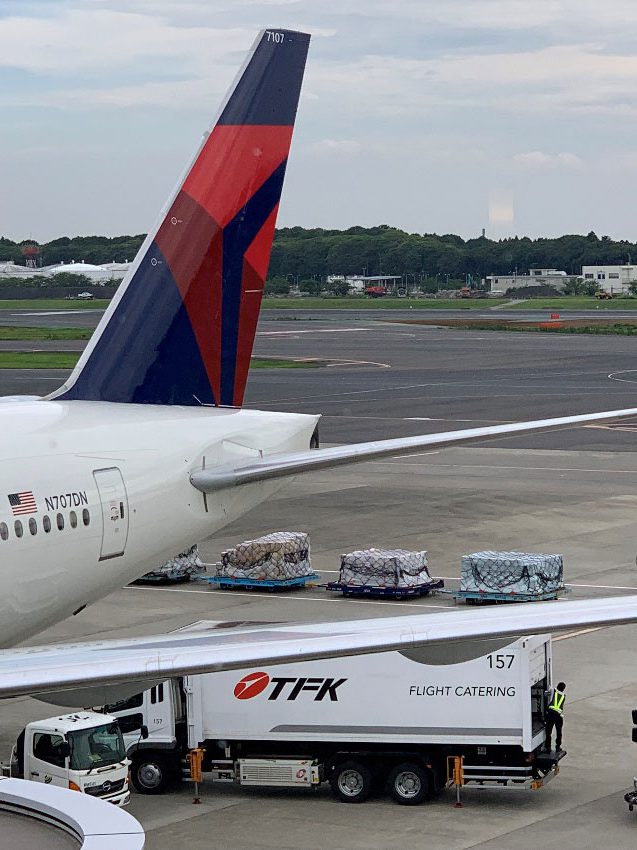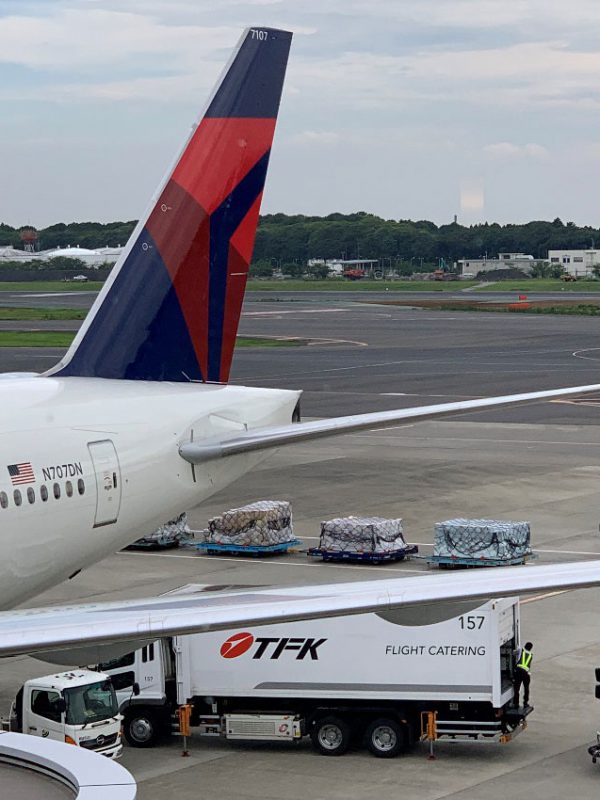 On my most recent trip I flew Delta business class. Meal service began with assorted roasted nuts, champagne and orange juice. Soon after takeoff, dinner was served.The surprisingly good appetizer was a large green salad, poached salmon, and tomato soup with a dollop of sour cream. The main course was a chicken breast, steamed vegetables, and potato. It all tasted rather healthy and free of heavy sauces and salt. The dessert cart rolled down the aisle filled with an assortment of cheeses and fresh fruit. Breakfast included a spinach omelet, asparagus, button mushrooms in a tomato sauce and gluten free bread with butter. This may have been the healthiest meal I have eaten on a plane!
Of course, no GF meal comes with a guarantee. The ANA website suggests that "passengers with serious medical conditions are asked to consult their doctor prior to flight and to consider preparing their own meals to carry on the flight." They also say to take note "that we cannot completely prevent risks of cross contamination during the production process." For anyone with Celiac Disease, this translates into "eat at your own risk." However, I NIMA tested each item before eating and found it all to be gluten free.
At 40,000 feet in the air, buckled in a chair with almost 300 strangers, the last thing on many people's minds is a gourmet meal. Here is a revealing statement made in an interview with express.co.uk. A representative from Gate Group (the catering company to Delta and over 300 airlines) explained why passengers choose calorie and salt laden meals along with alcohol and sweets. "We have done research and actually people, unconsciously, look to comfort themselves because there is that sentiment of fear and uncertainty. We usually allow more guilty pleasures in the air than on the ground." For travelers with CD, there is the additional anxiety that there may also be gluten in the food.
If you decide not to order a special meal option, you can always make your flight less stressful by setting aside some time the night before to prepare your favorite sandwiches. Don't forget fruits, nuts, cheese, and veggies to toss in your carry-on bag.
Lastly, if you really want to have some comfort food with you there is also another option. Head to the nearest convenience store in the airport terminal and buy some trusted gluten free snacks like Fritos, Snickers, M&M's, and peanut butter cups. This may not be traditional health food, but you will not have compromised your autoimmune system and can ultimately arrive healthy in Tokyo!
For some tips on how to eat gluten free once you touch down, check out our other article on thriving with Celiac Disease in Tokyo here!