If you have Celiac Disease you may be anxious about traveling to Tokyo. You are not alone. A quick search on the internet will bring up numerous blogs and YouTube videos posted by fear mongers and naysayers. If I believed most of the opinions and misinformation posted on the web, I would never visit Japan. On the contrary, I can assure you that whether you will be in Japan for a long or short term stay, whether you are coming for business , pleasure, or to witness or participate in the Olympics, you can eat safely and still be able to explore one of the most beautiful and vibrant cities in the world. Regardless of your point of origin, you can leave Tokyo healthier than when you first touched down at Narita or Haneda Airport.
I started traveling to Japan in the early 2000's, a decade before my Celiac diagnosis. I have eaten udon, gyoza, tempura and other soy sauce infused and deep-fried delicacies. It was hard to resist the temptation of these aromas wafting my way when I walked down almost any street in Tokyo. Each time I returned home it was with an added few pounds- the result of overindulging in deep fried octopus, cream filled pastries and the iconic Tokyo Bananas.
During my first trip back to Tokyo after my diagnosis I remember crying as my dinner mates slurped their ramen soup while I slowly chewed my way through a KIND bar. There is no doubt, a Celiac Diagnosis can feel socially alienating. You grow tired of having to explain its intricacies again and again to new acquaintances at social engagements. Many think it is a choice you have made- in the way a vegetarian might. Some people assume you are a picky eater or following a gluten free fad diet. Most don't realize that it is a life-threatening autoimmune disease. Celiacs have no choice in the matter if they are to stay healthy and thrive.
This lack of awareness is to be expected for a disease which was only discovered in the 1950's. In the United States only 1% (3 million people) are affected. Ninety seven percent of those people are undiagnosed and will suffer through years of misdiagnoses before it is detected. As the numbers increase worldwide, and more foreigners enter Japan, the need to accommodate Celiacs will continue to grow. In Japan, the incidence is extremely low (1 in 20,000). It is reasonable to think, that the capital city of Japan need not be bothered with accommodations for Celiacs. Or, that we would find it impossible to exist in Tokyo. This is far from the truth and can be attributed to two things.
The first is that Japan has a unique ability to take an idea and improve upon it. For example, I live in a major American forward-thinking city filled with universities, cutting edge medical centers, and home to GiG (Gluten Intolerance Group). GiG conducts Celiac medical trials and certifies food products across the USA after careful inspection of food production facilities. Ironically, there is not one gluten free restaurant anywhere in my hometown. By contrast, in Tokyo, I have a choice of five delicious Celiac friendly (100% gluten free) restaurants all within a few minutes train ride, walk or home delivery. An expanding number of Tokyo restaurant owners are forward thinking. They understand cross-contamination and realize the need for 100% gluten free offerings as more people become diagnosed and more foreigners travel to Japan. Gluten free pastas, breads, rolls, bagels and cakes made in Japan far surpass the quality of anything I have tasted in the US. Here, there is wonderful food from the sea, excellent quality beef, fruits and vegetable varieties— some of which cannot be found anywhere else.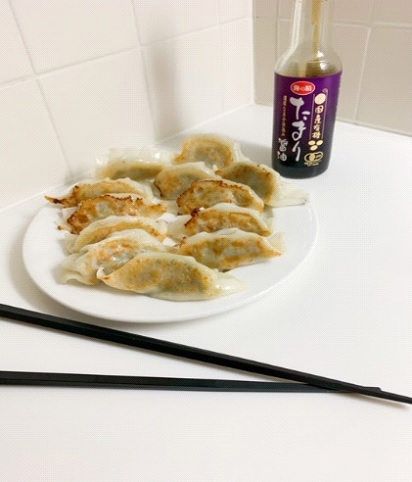 My 100% gluten free gyoza dinner with Tamari Sauce
The second reason you can feel safe in Tokyo and eat well is Omotenashi. This is a concept deeply rooted in Japanese culture. There are several ways to explain Omotenashi. At its core lies the idea of service that goes beyond just providing outstanding hospitality. The concept is to offer the best service without expectation of reward and to selflessly anticipate the needs of the guest or customer. I experience this each day when I am in Tokyo. Even though the incidence of Celiac is small here, even if your situation is not entirely understood, your needs will be taken seriously. You only need to ask. If your request is turned down, it is not because you are viewed as a rude customer. It is because the business feels it is not equipped to safely meet your needs. I would rather be turned down than be at risk for cross contamination and the subsequent days of illness as a result.
I continue to visit Tokyo frequently and am fortunate to know some of these restaurant and shop owners in the growing gluten free community. I constantly test packaged food products from grocery stores with a NIMA sensor so that I can cook in Japan. In future articles I will share with you all of the tasty things I have discovered: how to navigate through airports, convenience stores and supermarkets, places to take day trips where you can eat safely, and resorts to enjoy that offer gluten free food. For your general well-being and self-care, there are English speaking people in the medical community that can attend to any of your Celiac needs or complications. In Tokyo, there are many Bi-lingual traditional Japanese body care centers. There are new therapies available for helping with celiac anxiety such as organic CBD products, and even English speaking tTG/IgA blood draw clinics to monitor your gluten antibody levels.
During your time in Tokyo you will be able to enjoy delicious food without anxiety allowing you to experience all the amazing things in this unique and amazing city.