Have you checked out HealthyTOKYO CBD Shop & Cafe that recently opened at Daikanyama? Like our other stores, the cafe at Daikanyama serves gluten-free and vegan foods and beverages. Our menus are infused with HealthyTOKYO's high-quality CBD oils, which are preservative-free so anyone can enjoy our premium CBD sweets selection without any concerns. You can either relax at our store or have take-out / delivery and enjoy our CBD sweets in the comfort of your own home.
"All of our vegan foods and drinks are handmade by our talented chefs, who strive nothing more but to pursue the finest flavors with the most natural vegan ingredients. Most customers cannot even tell that it's 100% vegan when they try it," says HealthyTOKYO's Food Director.
Here is our premium selection of food and drinks you can enjoy at the café, for take-out or delivery.
Vegan & Gluten-free CBD Sweets Menu
CBD Oil-infused Cakes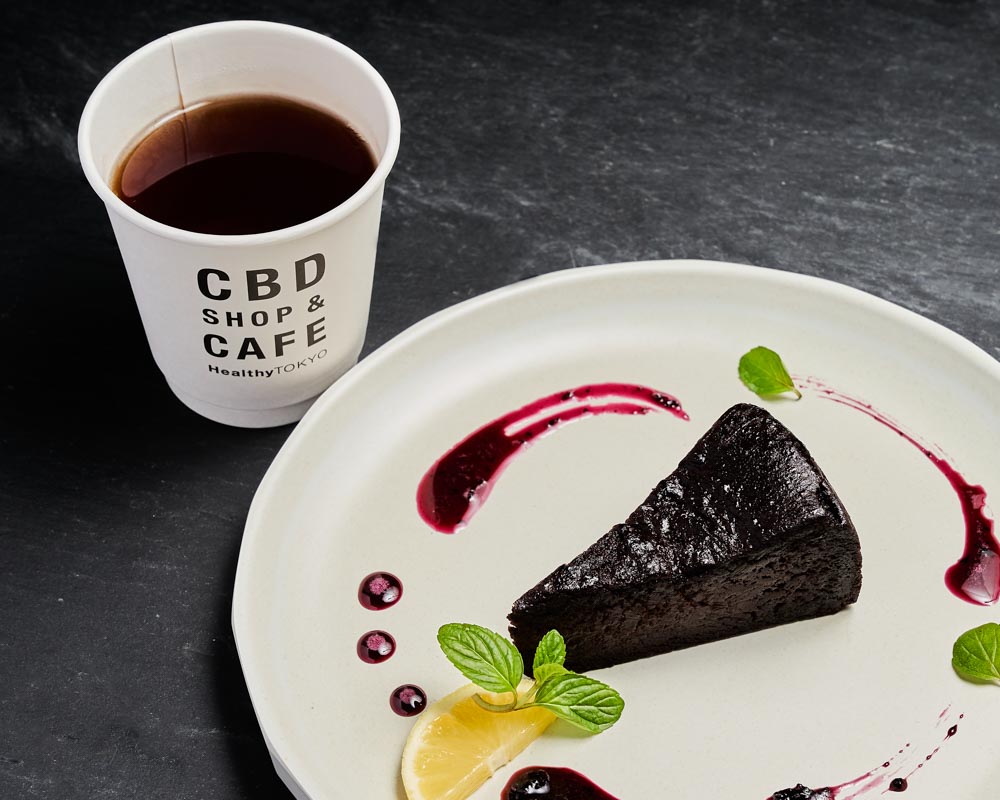 You will find a wide range of handmade cakes at our café by our in-house pastry chef. Try our gateau chocolate cake that melts in your mouth and oozes with an exquisite taste, or our famous cheesecake which you won't believe is vegan. 15mg of CBD is infused into our mouthwatering sauces, so you can enjoy the delectable taste of our sweets until the very last bite.
CBD-infused Chocolates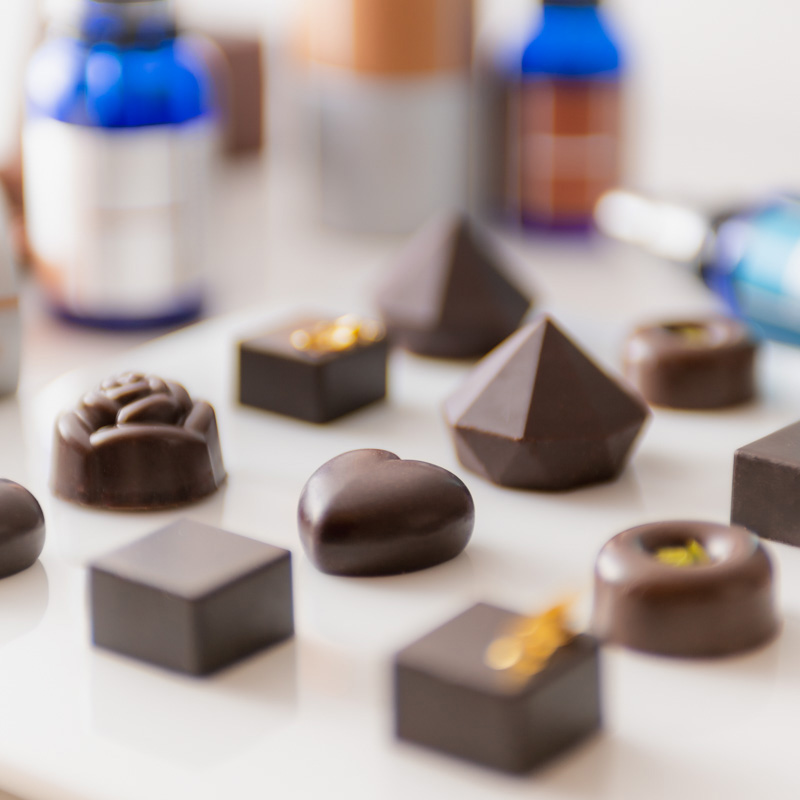 You'd be surprised to know that our rich and scrumptious CBD vegan chocolates contain no milk at all. We offer a wide array of chocolate flavors that will suit everyone's taste. We have "Classic" for those who simply want to enjoy the fine taste of cacao, the popular Yuzu Yummy which is infused with HealthyTOKYO's high quality CBD oil Yuzu flavor and a home-made Yuzu peal inside. Our Pistachio Pleasure is made with our 100% Pistachio Butter with is rich and wholesome flavor and the Mocha Mellow is made from the same coffee beans from our special blend offered at our Cafes. The Mighty Mint offers a refreshing bite infused with our Hakka Mint CBD oil. Each beautiful handcrafted piece contains 10 mg of CBD and can be purchased on-line or at a store near you. Available by the piece in our cafes and in a gift box with an assortment of six delectable pieces.
CBD-infused Energy Bar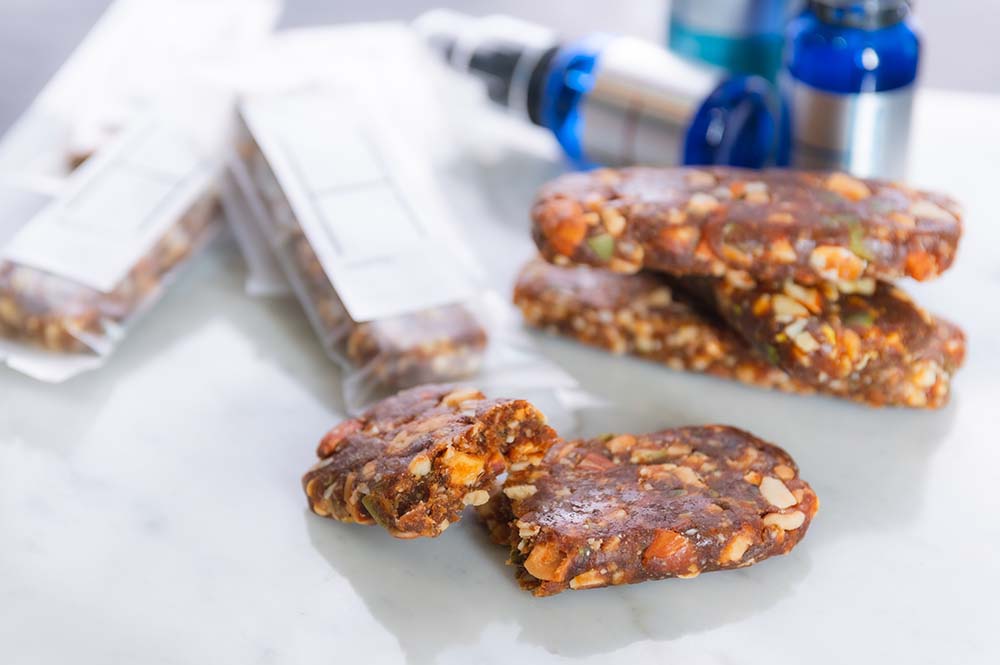 You can have this for breakfast, as a light snack when you are hungry, or as a quick energy replenishment during your exercise routine. Not only are the energy bars infused with 10mg of our all-natural CBD oils, but the energy bars also contain a great balance of nutritious ingredients such as the finest nuts, dried fruits and seeds. True to our philosophy, each energy bar is vegan, gluten-free, and does not contain any preservatives or additives. The CBD Energy Bars come in two flavors, "Yuzu" and "Pistachio".
CBD Brownie "Super 45"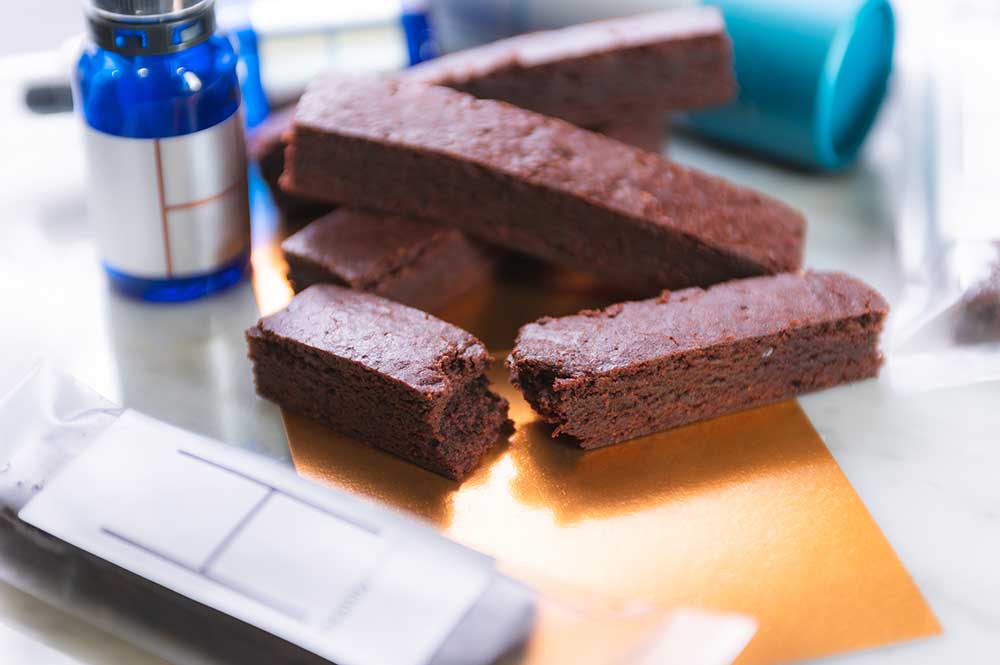 HealthyTOKYO's most popular CBD-infused edible, the CBD Brownie "Super 45". As the name suggests, each brownie contains 45 mg of HealthyTOKYO CBD. 100% vegan, gluten-free and made from a custom rice flour mixture and organic cocoa, it is loved by many for its deep full-bodied chocolate aroma, rich texture made from dates and avocado, and refreshing understated sweetness from cane sugar and maple syrup.
CBD Cookie "15"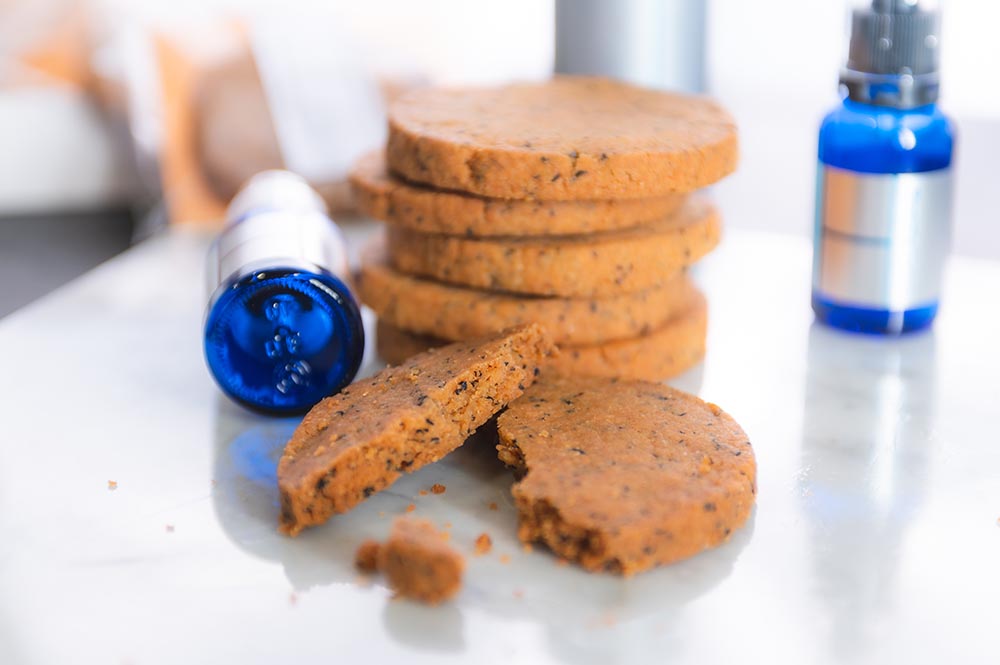 CBD cookie "15" is a great companion to a cup of coffee in the morning, and the perfect pick-me-up snack to have while you are taking a relaxing break from work. Our gluten-free cookies, which are made with rice flour instead of wheat flour, are infused with 15mg of HealthyTOKYO CBD. Enjoy the invigorating understated sweet taste of our cookies and refresh your senses as you take in the gentle aroma of almond powder and the rich aroma of Earl Grey with each bite.
CBD Gumdrop (Limited Item Sold Only at Our Daikanyama Store)
A vegan fruit gumdrop, made without the use of animal-derived gelatin. Seasonal flavors such as "Strawberry" and "Yuzu" are available. Each luxurious sweet contains 15mg of CBD. This is a premium product sold only at the Daikanyama store, so it is ideal as a gift or souvenir for your loved ones.
Safe Premium Broad Spectrum CBD
HealthyTOKYO's sweets contain broad spectrum CBD. CBD that is "broad spectrum" means that the oil includes various other cannabinoids, terpenes and flavonoids. These ingredients work together with CBD to produce better effects when compared to using CBD alone. Our desserts are infused with a wide array of CBD oil flavors, such as Yuzu, Mint and Natural.
HealthyTOKYO regards safety above all else. Our CBD oil products are made in Japan at a certified factory. The CBD used is safely and carefully extracted in the USA using CO2 from the stems of specially cultivated high-quality organic hemp.
Takeout Available
Takeout and Delivery are also available. Enjoy HealthyTOKYO's sweets in the office or at home. In addition to sweets, we also offer vegan light meals such as lasagna and quiche. To go along with our delectable treats, we also offer a wide range of premium drinks that are infused with CBD.
If you have any questions or concerns regarding CBD, please feel free to visit our Daikanyama shop or on of our other stores. Our knowledgeable team are multilingual, trained, and experienced, and are ready to assist with any questions you may have.